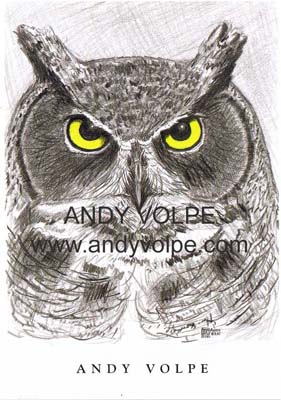 "The Eyes Have It" I (Great Horned Owl)
Ebony and Colored Pencil on paper, 1999-2000.
(Artist Card, original drawing apx. 11x14")
(Available as Limited Edition prints, signed and numbered 2004-05.)
This vivid and expressive drawing debued as part of my Senior Thesis for my Fine Arts degree from Westfield State College, exploring some new techniques and style. This also started "The Eyes Have It" Series, currently at 3 pieces. This piece also became the 'showpiece' for the "Visions" art show at Westboro Gallery in 2004. This piece alsyo marks the start of my use of the Albrecht Durer inspired monogram.