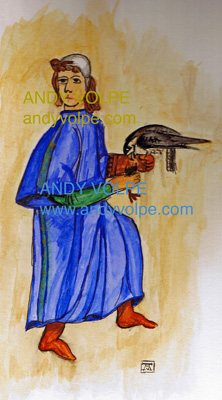 Falconer I
Watercolor and pen ink on Bristol Board, 2006-07.
This piece is what started the Falconer series of notecards, and what helped develop my art show "New and Revived Works" at Westboro Gallery in 2009.
The image is based on "de Arte Venandi cum Avibus" (The Art of Hunting with Birds), by Emperor Frederick II, 1250 AD.